REGISTRATION IS NOW OPEN FOR THE 2023 RUGBY SEASON!
THE HAWKS ARE EXCITED TO ANNOUNCE THAT WE WILL BE OFFERING A NEW JV HIGH SCHOOL PROGRAM FOR FRESHMEN AND SOPHOMORE PLAYERS. STUDENTS FROM ALL LOCAL HIGH SCHOOLS ARE WELCOME TO JOIN OUR CLUB TEAM.
WE WILL ALSO CONTINUE TO OFFER OUR U10, U12, AND MIDDLE SCHOOL PROGRAMS.
SPREAD THE WORD AND JOIN THE HAWKS!
WHO ARE THE HAWKS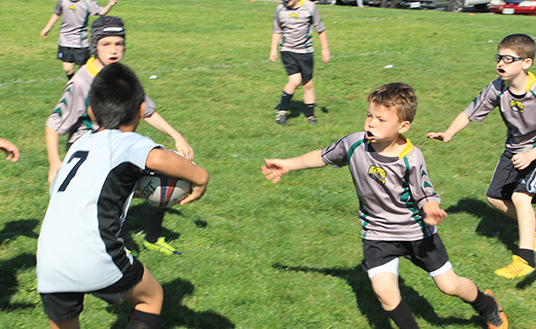 Welcome to the Carmichael Hawks Rugby Football Club! We are a 501(c)(3) nonprofit youth rugby program that gives enthusiastic boys and girls from 8 years old through 10thgrade the opportunity to take part in one of the fastest growing sports in the United States. We provide a safe, fun, and instructional format for your son or daughter to learn a new game or excel at a game they already love. We are always looking for new families to become part of our growing rugby community and welcome you to join us. Please look around the site, follow us on Facebook, and join our mailing list to receive updates and notifications.
Practice for the 2023 youth season will begin on Tuesday, December 6, 2022. The JV High School season will begin on Monday, January 9, 2023. Time and location for practices to be provided later. Registration is always open and can be completed online.
Thank you for your support of youth rugby in the Carmichael/Arden/Fair Oaks community and, as always, "Go Hawks!"
2023 SEASON
This season marks the 12th year since the Club's inception. We have come a long way and we could not be more excited for what the future holds. As far as we have come we still have a long way to go and it is critical that we have new players and new families in order for our Club to continue to grow. Please let your friends and their families know that they are welcome to come to our practices and matches to see if rugby is something that they would enjoy! Practices will begin in December to get the team prepared to play.
PRACTICE
Practice locations are still TBD and will be updated once fields are secured. Practices are led by the Hawks Rugby coaching staff. Players should come dressed for the weather; practice is held rain or shine! Rugby style shorts, a t-shirt or rugby jersey, cleated shoes, and a mouth guard are required. Youth practices will be for one hour, twice a week and JV High School will practice three times per week. 
REGISTRATION
The registration process is very easy. Simply follow the link below and have all of your information ready to submit. Our goal is to have all players registered prior to January.
FOR THE LATEST UPDATES ON THE TEAM
Follow Our Facebook  Click Here